Assembly Drone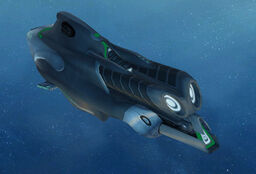 The Assembly Drone is the Advent's construction ship.
The workhorse of the Advent race. The Assembly Drone cunstructs all Advent structures and have the innate ability to disassemble enemy structures. They can be upgraded to assist other Assembly Drones in construction of a building to make it build faster. Destroyed drones take 60 seconds to rebuild, they take 360 seconds to rebuild if there is fighting around the planet. Assembly drones increase in quantity when Tactical Capacity and Logistics Capacity is upgraded.
They are useless when it comes to fighting capabilities and are generally the first target of an enemy when they invade a system. It is essential to keep your fleet around them should your enemy attack or they will be focus fired. When you take over an enemy system the Drone can use the descontruction ability to damage enemy structures.
Ad blocker interference detected!
Wikia is a free-to-use site that makes money from advertising. We have a modified experience for viewers using ad blockers

Wikia is not accessible if you've made further modifications. Remove the custom ad blocker rule(s) and the page will load as expected.